Hello!
I hope that everyone is well. Apologies for not updating this website, but it's because I've been working with a good friend on turning it into a new website. Here is what we are thinking in terms of colour/layout: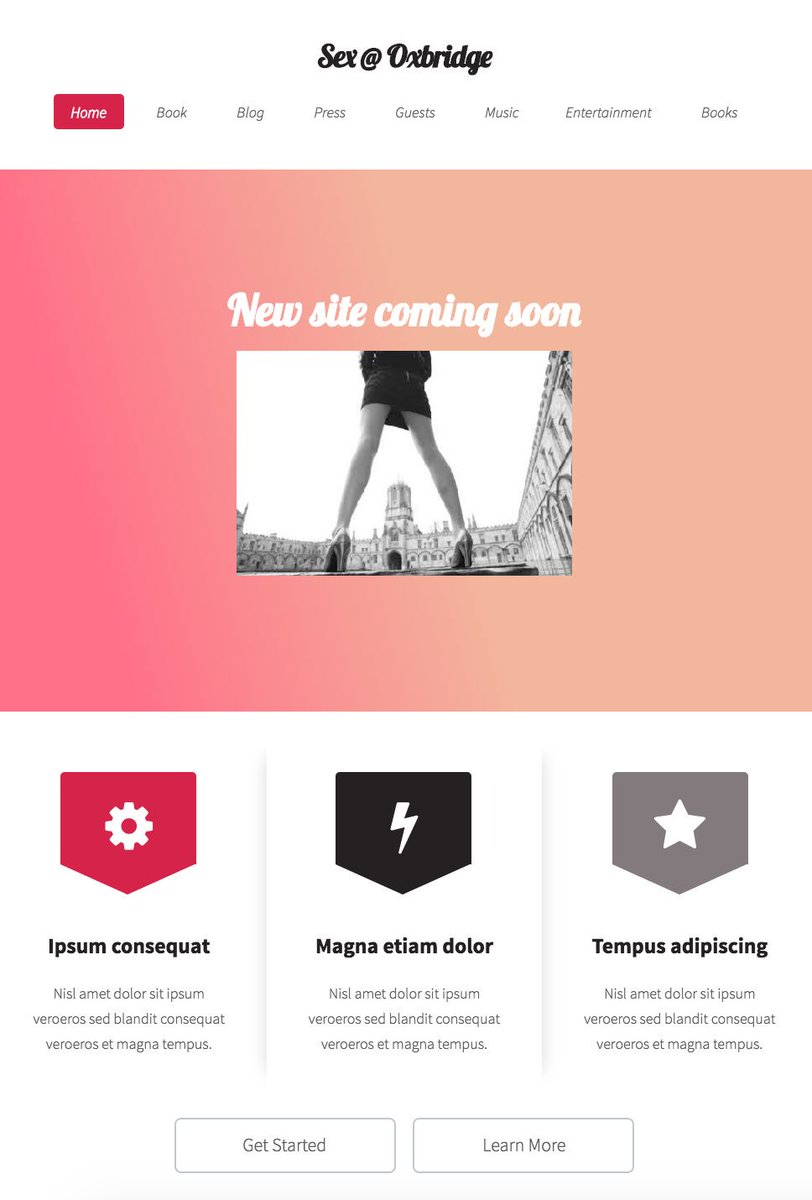 Very exciting stuff! If you love it, let me know. If you hate it, too bad! Just kidding, I'd love to know what people think about the colours, font, layout, etc…
I've been very fortunate to take on a lot of cool projects this year, including being asked by other authors to read and review their books, which I have done but I am waiting until the new website is up to post them.
As most of you know I also began writing a book based on this blog called Sex at Oxbridge: Year One which is going very well. The updates are on hold for a hot second because I wanted to give certain people who are in the book the courtesy of reading what I've written about them first and making sure there's nothing in there they wouldn't want included.
In addition to to that book I also began a satirical novel called You've Got It! based on all the information I've gathered through my avid interest and research into boybands and talent show contests. That one is very exciting for me as I've written almost purely autobiographically in the first person for years, which I had never done consistently before this blog because first person isn't actually my preferred way of writing believe it or not. You probably don't believe that given how fond I am of talking about myself, but it's the truth.
Finally, guess fucking what. I actually sat down and wrote an entire book in between live-tweeting my cooking disasters and writing the other books. It's a collection of essays and basically my guide to how not to be an adult. The lovely Dr. Brooke Magnanti sent me a quote by Simon Monefiori the other day that said, "When I want to read a book, I write it." I see all sorts of books about how to be a good person, but I've never seen a book about how to be the kind of person that I want to be, so I give you:
Ta da! The cover is still a work in progress mainly because I cannot get a hold of the man who took this picture. If anyone knows Ollie Ford who was doing photography for the Cherwell at Oxford in 2010 then tell him to get in touch please as my attempts to get in touch with him have been ignored for six years now. Also I'm going to take that byline at the bottom out and just keep the Sex At Oxbridge bit, but anyway. The point is that I wrote this and it will be available in full to everybody soon. I cannot add another update-basis book to my schedule because that is far more stressful than I thought it would be, so I got the idea for this, sat down with a litre of wine and boshed out a draft.
Literally none of this could have happened without the tremendous support that I've had from everyone over the past six years, but especially over the past six months. This book is basically everything I've learned since university about being an adult. It's twenty-two pages long. Haven't actually learned that much as it turns out. Just kidding, it's actually quite long because I kept thinking of new topics to discuss. Here is a list of the first things that came to mind and the very first draft of an outline: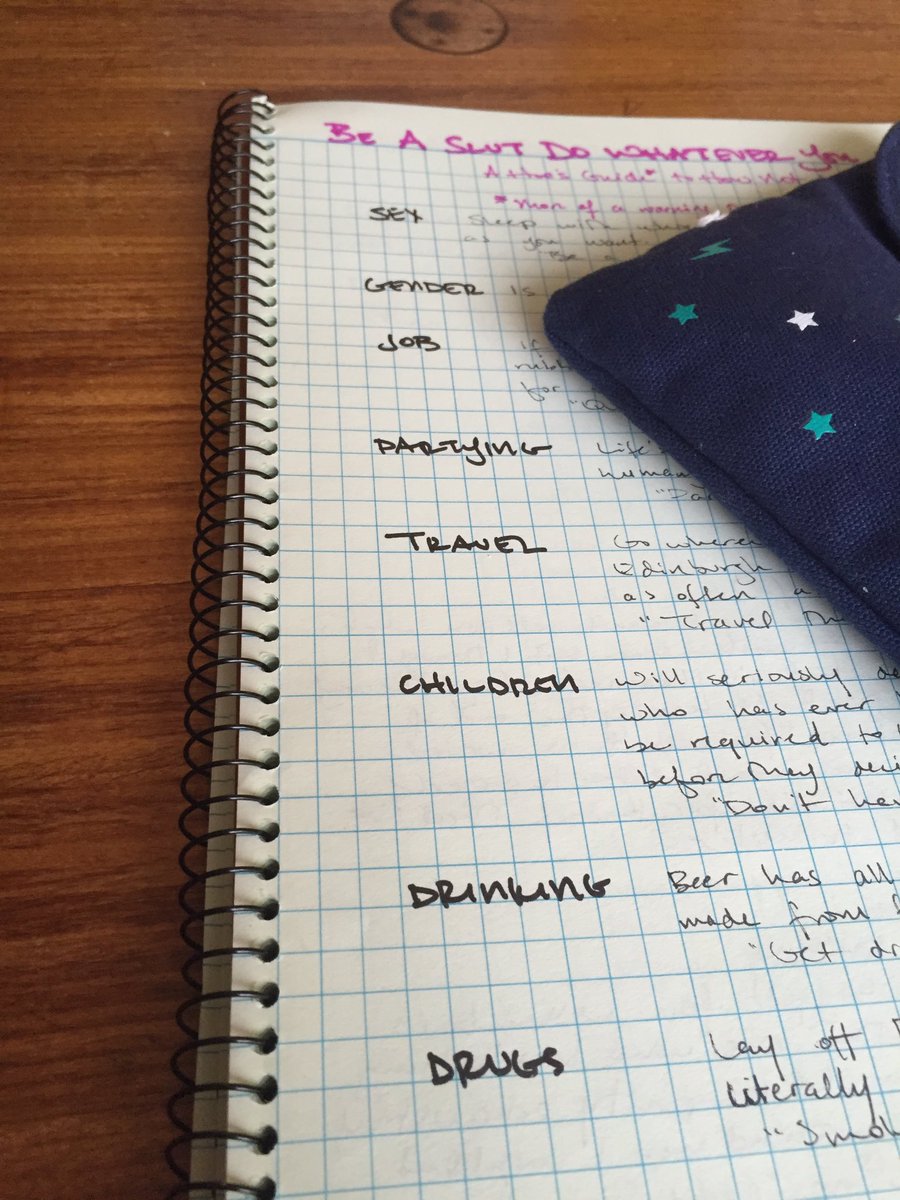 I also added more specific topics. One chapter is called "Sleep With Your Friends: DWYW" and another is "Defriend, Block and Unfollow People: DWYW".  The message, in case you haven't caught on, is simply to do whatever you want and then you too could be a disaster in the kitchen who still can't figure out online bill pay but can design, order and track a pizza from Domino's website like me. It was going to be called Be A Slut: Do Whatever You Want…but be nice about it but that was a bit long-winded so I'll just heavily imply the "be nice" bit. The most surprising bit of advice I found I had to give was "Say No To Being In A Wedding: DWYW" which you'll probably only ever understand if you've been in a wedding party, but at least now you can't say that I didn't warn you.
When will this essential guide to living be available, you may ask. Well. Kind of depends. I meant what I said when I told everyone that I was going to self-publish everything and I am in the process of seeking advice on setting up my own publishing company because y-literally-olo and I would really like to give other people the opportunity to publish their work someday as well. "But, SAO…do you know how to run a company?" Funny you should ask, because I do. You see, here is a brief synopsis of my life since starting this blog:
2010:
2011-2015:
(And other general running of businesses duties…)
2016:
Writing and blogging is what I love to do most and I really needed to write Be A Slut: Do Whatever You Want because I spent a significant amount of time since graduating from uni doing things that I didn't want to do and, well, fuck that. Life does not have to be that sad, and sitting at a desk all day making money for other people made me sad. I did learn a lot, mainly about what I didn't want to do, but I think that's just as important as learning what it is that you do want to do.
One of the major keys to being successful is finding the people that are better than you at what you're trying to do and asking them to teach you what they know. I've always found that asking for help is unsurprisingly something you must do if you want to be successful, but surprisingly something many people won't do. I've never asked for help and had someone say, "No. I don't want you to succeed." So always ask, all they can say is no. (That's my mum's favourite saying that has been engrained in me since I was a child, by the way.)
Speaking of asking for help, I have estimated that I need £5000 to start this business properly. For my part I have taken up moonlighting as a stripper to pay the bills (sorry mum). So if I can work the pole, you can do your part as well by either offering services, donations or an investment. I'm totally kidding about the stripping thing, by the way. I work in a bar part-time, not on a bar, but if I had the skills for it you bet your arse I'd jump up there. I'm serious about the other bits though, but what do I mean specifically?
Services: I am always in need of copy editing. Thus far I've had tremendous help with the chapters I've been sending out for Sex at Oxbridge: Year One and You've Got It! …even I am not impervious to typos and anyone with an eye for grammar is invaluable for the publication process.
Donations: Literally every pound helps. In fact if everyone who follows me here and on Tumblr and on Twitter just gave me A pound I would be sorted, but I know the world doesn't work that way and I also know what it's like to be a poor student (and adult), which is why I have been happy to give my work away for free to anyone who can't afford to buy the books, something I want to continue doing forever. I want to always be able to provide art for free to those who can't afford it, which is why everyone's donations have been amazing. Everyone who donates has made it possible to allow me to share this with anyone who will read it, which is another reason I wanted to self-publish this book and create my own company because if I walked into a bookstore when I was a broke student and said "Hey can I have this for free?" they'd say no obviously, but I want to be able to give my book and any book that I publish to everyone who wants it. Is that possible? At the moment with an ebook platform it is, but I'd like to try to do this on a larger scale eventually because knowledge is power and power is money and money is pizza and every person young and old should have the opportunity to have as much pizza and as many books as they want.
If you would like to donate a link to do so via PayPal is here:
Investment: I am not kidding when I say that I am legit starting my own company. Part of my radio silence over the past couple weeks has not only been due to writing but also because of the time I've put into the logistics of this process. I understand that telling you that I'm writing a book about failing as an adult and then asking you if you'd like to be my business partner is kind of contradictory, but I assure you that through sheer tenacity and determination alone that when I want to do something I will go to the ends of the earth to do it, so if you're at all interested in speaking to me further about that give me a shout on sao@sexatoxbridge.com. I'm not sure how many angel investors are reading my blog, but if you're out there now you know where to find me.
I believe that just about sums up what I've been up to business-wise. I have also been busy doing as much as possible to ensure that I am never out of stories to write about and I promise that this blog will eventually talk about sex again. For now all the sex is in the books though. If you'd like to read those you may either donate via the links at the top right of this page or if you are unable to donate but would like to provide feedback please email me and I will put you on the mailing list for free.
Again, thank you so much for everyone's overwhelming support. I love you all!